The Italians LOVE their rapini, and if you can appreciate a bitter green (they are quite bitter) then this recipe could become a new favorite.  It's definitely one of my new loves 🙂
Typically rapini is blanched before sauteeing, but I'm not a fan of this extra step because all those health boosting nutrients (vitamins A, B, C, K, calcium, iron, magnesium, potassium, zinc and even some omega 3 fatty acid…just to name a few) are leached into that cooking water and lost forever.
This quick method retains the goodness, both in nutrition and flavour.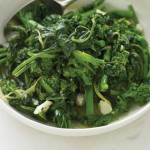 Sautéed Rapini with Chili and Garlic