Chocolate Avocado Pudding
This is a no-fail recipe, sneaking in those essential fatty must-haves in the diet with out ever knowing you're eating them!  Fool your partner, your kids, and every chocolate lover out there.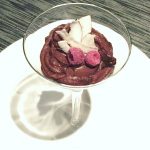 Chocolate Avocado Coconut Pudding
Ingredients
1

large ripe avocado

¼

cup

full-fat coconut milk*

2-3

tbsp

pure maple syrup or honey

¼

cup

dark cocoa powder

1

tsp

vanilla extract

2

tbsp

semi-sweet chocolate chips**

Pinch

each sea salt and cinnamon
Instructions
Remove large pit from avocado, scoop out flesh with a spoon and place in a food processor. Add in coconut milk, maple syrup, cocoa powder and vanilla. Puree on high, scraping down sides a couple of times, until smooth.

Use the microwave to melt chocolate chips on medium for 1 minute. Stir and then heat again for 30 seconds at a time until completely melted and smooth. (Yes, I know. The microwaves will probably kill a bunch of your brain cells, but so does taking a walk down the street if you live in the city, so do it because it's way faster. If you're a purist by all means melt the chocolate slowly over a double boiler)

Pour melted chocolate into the food processor and add salt and cinnamon. Puree again until completely smooth, scraping down sides again once or twice.

Transfer to single serve glasses (like a fancy martini glass) or medium bowl. Refrigerate for at least 2 hours to set and get 'fudgey'.

Serve topped with fresh berries, toasted coconut, toasted slivered almonds, or even some whipped coconut cream.
Recipe Notes
Makes 1 1/3 cups 
*use an extra 2 Tbsp coconut milk if using a blender.
**Ensure you're buying dairy free chocolate chips to make completely vegan
I am a nutritionist, chef, mom to two little ones, and a lover of food!
I hope you enjoy my recipes and food blog. Feel free to reach out if you have any questions.