Welcome food lovers...and wannabes!
my moto...love food, live well!
These are words I live by every day, helping to create the foundation of my food philosophy: shop smart, cook simply, enjoy eating and feel great. As an experienced nutritionist and trained chef, I've bridged together this concept of improving health through food, while leaving plenty of room for life's tasty pleasures in the process. Wholeheartedly passionate about food and cooking... and eating (isn't that just the best part?), I strive to teach and inspire others to adopt healthier eating habits through food talks and cooking demonstrations.
I've spent over a decade offering both nutrition and culinary services to individuals, in the workplace and the not-for-profit community. Plus, my chef training has given me the pleasure of rolling up my sleeves to make a mess in the kitchen, (such a fun mess to make!) developing recipes that feed my growing family and help food companies and restaurants sell more food!
So, what if YOU could love food & live well too?
It is possible, but we need to declutter the madness and confusion first. Mother Nature gave us a lot of great stuff to work with, but now we need to figure out how to best choose and prepare it. The goal here is to understand food: where it comes from, why it's good for us and how to (always) make it taste great. The result? Feeling good, every day, with that extra 'pep in your step' you've been looking for.
So let's connect! I'm excited to spread the foodie love around and prove that living well is a thing.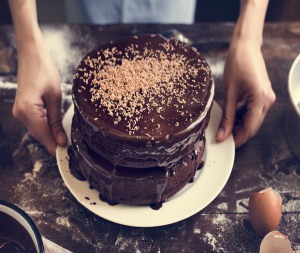 Cooking well doesn't mean