Forget your Valentine, chocolate is better eaten alone
Alright, fine.  Share if you must.  But if your Valentine can't appreciate the love and purity that goes into making a REAL chocolate dessert, then don't offer them any and keep it for yourself.  It's like dragging someone to see a movie you've been dying to see, like I dunno Fifty Shades of Grey, for example, and they're not really into it…or they complain the whole time.  Sucks the fun right out! Right?  Don't do the same with chocolate.  Don't waste it.
Anyway, chocolate lovers rejoice!   Whether you have a Valentine or not this year, I'm giving you two amazingly indulgent recipes that will leave you completely satisfied and not feeling an ounce guilty.  You can trust that all the ingredients in both recipes have benefits to your health, your heart and your sole.
If Valentine's Day is a difficult one for you get in the kitchen and whip up a chocolate confection to take the pain away. Seriously.  Think of it like a much-needed band-aid, just for one day.  For everyone else who embrace Valentine's Day you can impress your loved one with either (or both) desserts as part of a treat later on, after an incredible night out (bow chicka wow wow), or as a last course to a homemade dinner for two.  Your choice.  Either way, these recipes that feature chocolate and coconut will sweeten up your senses and promise a chocolaty memorable experience.
OH WAIT!….both recipes are VEGAN and GLUTEN-FREE.  Commence your happy dance 🙂
Choco-Coconut Fudge
Dense, rich and a perfect balance of chocolate and coconut.  Freeze half this batch for one of those 'moments' you might have in the future. You'll be so happy you saved it.  Trust me…been there.
2 cups full-fat cocon
ut milk
3/4 cup coconut palm sugar
1/3 cup coconut oil
5 cups semi-sweet chocolate chips*
2/3 cup lightly toasted shredded coconut
2 Tbsp cocoa nibs (optional)
1 tsp flaked Himalayan sea salt (optional)
Line a 13×9″ baking pan with parchment paper. Set aside.
In a medium saucepan combine coconut milk, sugar and coconut oil. Bring to a light simmer and whisk until ingredients are well combined.
Remove from the heat and add in chocolate chips. Stir until melted and well incorporated.
Transfer the chocolate mixture to a stand-up mixer (or separate bowl using a hand-held mixer) and beat at medium-high speed for 3 minutes.
Pour chocolate mixture into the prepared pan. Allow to cool for 30 minutes at room temperature.  Sprinkle toasted coconut over the top, along with cocoa nibs and salt, if using.  Refrigerate fudge for at least 4 hours or overnight before serving.
Cut into 48 pieces. Will keep in fridge for 1 week or in freezer for 3 months.
*Ensure you're buying dairy-free chocolate chips to make completely vegan
Chocolate Avocado Coconut Pudding
This is a no-fail recipe, sneaking in those essential fatty must-haves in the diet with out ever knowing you're eating them!  Fool your partner, your kids, and every chocolate lover out there.  
1 large ripe avocado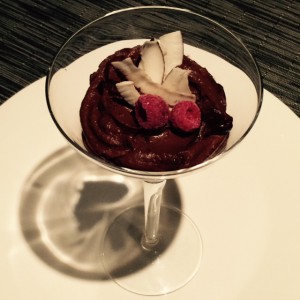 ¼ cup full-fat coconut milk*
2-3 tbsp pure maple syrup or honey
¼ cup dark cocoa powder
1 tsp vanilla extract
2 tbsp semi-sweet chocolate chips**
Pinch each sea salt and cinnamon
 Remove large pit from avocado, scoop out flesh with a spoon and place in a food processor. Add in coconut milk, maple syrup, cocoa powder and vanilla.  Puree on high, scraping down sides a couple of times, until smooth.
Use the microwave to melt chocolate chips on medium for 1 minute.  Stir and then heat again for 30 seconds at a time until completely melted and smooth.  (Yes, I know.  The microwaves will probably kill a bunch of your brain cells, but so does taking a walk down the street if you live in the city, so do it because it's way faster.  If you're a purist by all means melt the chocolate slowly over a double boiler)
Pour melted chocolate into the food processor and add salt and cinnamon.  Puree again until completely smooth, scraping down sides again once or twice.
Transfer to single serve glasses (like a fancy martini glass) or medium bowl.  Refrigerate for at least 2 hours to set and get 'fudgey'.
Serve topped with fresh berries, toasted coconut, toasted slivered almonds, or even some whipped coconut cream.
Makes 1 1/3 cups  Serves 2-4
*use an extra 2 Tbsp coconut milk if using a blender.
**Ensure you're buying dairy free chocolate chips to make completely vegan
I am a nutritionist, chef, mom to two little ones, and a lover of food!
I hope you enjoy my recipes and food blog. Feel free to reach out if you have any questions.