Spaghetti Pie: When leftovers become lunch…yep, I said pie!
Here's a quickie but a goodie 🙂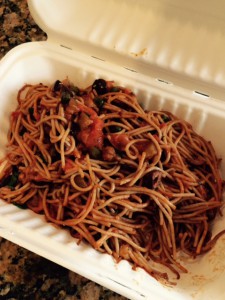 Rather than re-heat leftover pasta, whether it's spaghetti with meat sauce, mac n' cheese or in my case here a vegan pasta putanesca (tomato, black olive and caper sauce), you can turn it into pie!
So, so, so easy.  It's creamy on the inside, crispy/crunchy on the outside, and if you're a cheese lover it can even be cheesy gooey on top.
Ready?  This recipe is for one serving.  Multiply by however many you need to serve…or however much you have leftover from dinner.
NOTE:  you need the pasta to be pre-sauced and with flavour, otherwise you'll end up with a starchy brick of tasteless thumbs-down spaghetti pie…boo.
1 large organic egg
pinch salt and pepper
2 Tbsp grated Parmesan, Mozz or any hard cheese you love.
pinch dried chili flakes, if you like
1 1/2 cups leftover spaghetti or pasta, mixed with sauce
olive oil for greasing pan
1.) Preheat oven to 350 degF.  Use enough olive oil to lightly coat the bottom and sides of a 2-cup baking dish (yep, a mini one.  If you don't have one you could use a larger single-serve ramekin, a French onion soup bowl, or one of those small throw-away aluminum pans you buy in stacks at the grocery store).  Set aside.
2.) In a medium bowl beat egg with a fork and add a pinch of salt and pepper, 1 Tbsp cheese (if using) and chilis (if using).  Add in leftover spaghetti & sauce and toss well to combine with egg mixture.  Pour into oiled pan and top with remaining cheese (if using).
3.)  Bake in oven, middle rack, for 40 minutes.  The top should look golden, a little crunchy from the noodles sticking out, and set in the middle.  NOTE:  The cook time will vary if you're making more than one portion in a larger dish.  It could take up to an hour.
4.) Allow to cool for 5 minutes, cut into 4 pieces and lift out of the pan and onto a plate.
Now, eat something green with this!  A salad, some rapini with garlic (Mmmm) or whatever.
Voila!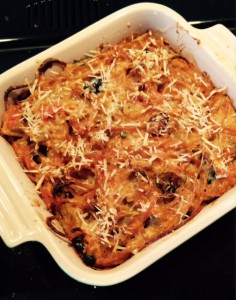 I am a nutritionist, chef, mom to two little ones, and a lover of food!
I hope you enjoy my recipes and food blog. Feel free to reach out if you have any questions.