Squash n' Beets n' Greens, Oh My!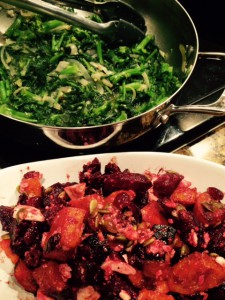 Today is Monday.  If you're practicing 'Meatless Monday' then you're off to a great week of healthy eating!  Woohoo!
March is also Nutrition Month across Canada, so if you're planning on picking up better eating habits you may as well make March your month!
How about starting off the week (and month) with a few veggies you don't normally cook?  Why not a new combo of flavours?  I played around with a couple of recipes this past weekend, craving a bitter-sweet combination, and came up with a meal that included roasting some sweet and hearty root vegetables and then quickly sauteeing a bunch of rapini I had in the fridge.  What's missing?  The main course I guess you could say, but that part was easy.
I keep a freezer full of healthy animal proteins; organically raised, hormone and antibiotic free, grass-fed, and conveniently delivered to my house. (check out Brooker's Meat www.brookersmeat.com).   I had a couple of turkey legs so those were thawed , roasted in the oven with some herbs and chicken broth,  then served with my two colourful veggies.  A complete meal!
Think about your veggies first, protein later.  Meal plan ahead for what your salad will look like, how you'll steam those veggies, or which roots to roast.  This will ensure you're plate is covered with all the right stuff, mostly plant foods, with just a side of meat instead.
If you're already going meatless on a regular basis then toss in some chickpeas to the roasted beets and squash for a vegetarian-friendly main.
Get in that kitchen and cook up something colourful tonight!
Roasted Beet and Butternut Squash Salad with Feta
3 large red or purple beets, tops removed
1 medium butternut squash, peeled, seeds removed, and cut into large chunks (about 1 inch)
1/4 cup good olive oil or hazelnut oil
salt and pepper, to taste
1 Tbsp Balsamic vinegar
1/4 cup lightly toasted* pepitas (green pumpkin seeds)
1/2 cup dried cranberries, soaked in 1/2 cup orange juice for at least 30 minutes
3/4 cup Greek Feta , broken into chunks
1.)  Place whole beets in a steamer basket and steam for 20 minutes. Rinse under cold water and gently peel away the skin. Cut beets into 3/4 inch chunks and place in a mixing bowl. Set aside.
2.) Place butternut squash chunks into another mixing bowl and toss with 2 Tbsp oil. Transfer onto a sheet pan, lined with parchment paper or aluminum foil, and sprinkle with a thin layer of salt and pepper. Do the same with the beets, tossing with 2 Tbsp oil, laying onto a separate sheet pan, season, etc.
3.) Preheat oven to 400F. Place both pans in the oven, one on bottom rack and the other in the middle. Roast for 15 minutes at a time, tossing after each interval and rotating the pans (top for bottom, etc). Once the beets and squash are tender and starting to brown/caramelize (about 35-40 minutes) remove from the oven to rest for 5 minutes.
4.) Transfer beets and squash to large mixing bowl. Add in vinegar, pepitas, cranberries with orange juice, and feta. Toss gently to combine. Season with more salt, but mostly pepper, if necessary. Serve warm or at room temperature.
Serves 6
*To toast pepitas: Place a small pan on stove at medium heat. Add pepitas and toast for 5-7 minutes, or just until they begin to 'puff up' a little and lightly brown. Place onto a plate to cool before adding to salad.
Sauteed Rapini with Chili and Garlic
1 bunch rapini (aka Broccoli Rabe), stems trimmed 2-3 inches from the bottom
2 Tbsp good olive oil
2 cloves garlic, minced
1/2 tsp dried chili flakes
1 cup homemade or low-sodium chicken or veggie broth
1 Tbsp red wine vinegar
salt and pepper, to taste
1.) Chop rapini into 1 1/2 inch pieces, all the way up to the leaves and florets. Place in a colander and rinse well. Spin dry or transfer to a towel to shake out most of the water. Rapini should be mostly dry before cooking.
2.) In a large sautee pan, with deep sides, heat oil to medium. Add in garlic and chilis, stirring for about 30 seconds. Be careful not to burn the garlic, keep heat at medium.
3.) Add rapini and broth, cover and let steam for 5 minutes. Uncover and continue to cook for 2-3 more minutes, or until half of the liquid has evaporated.
4.) Add vinegar and season with a good pinch of salt and pepper. Stir and remove from heat. Serve hot.
Serves 4
I am a nutritionist, chef, mom to two little ones, and a lover of food!
I hope you enjoy my recipes and food blog. Feel free to reach out if you have any questions.