Apple Cider Braised Turkey Drums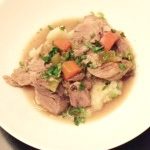 Apple Cider Braised Drumsticks
Ingredients
2

tablespoons

grapeseed oil

4

2-pound turkey drumsticks

(or 8 chicken drumsticks or mix of thigh and drum)

Kosher salt and freshly ground pepper

1

cup

diced celery

(about 3 ribs)

1

cup

diced carrot

(about 2 large)

2

cups

diced onion

(about 1 large)

1

L

4 cups apple cider

1 1/2

cups

low-sodium chicken broth

(or turkey stock)

2

bay leaves

1

tsp

dried thyme

3

tablespoons

finely chopped parsley

Hot sauce and fresh lemon

optional
Instructions
Preheat the oven to 325°. In a very large deep skillet, or Dutch oven, heat the oil to medium-high. Season the drumsticks all over with salt and pepper, add them to the skillet (in batches of 2 if necessary) and cook until browned all over, about 8 minutes. Transfer the drumsticks to a platter.

Add the celery, carrot, onion and a pinch of each salt and pepper to the skillet and cook over moderate heat until the onion is starting to caramelize, about 8-10 minutes. Add the cider, stock, bay leaves and thyme and bring to a boil. If using a large Dutch oven add the drumsticks and any extra juices. Otherwise pour the mixture into a large roasting pan. Add the drumsticks and cover tightly with foil. Braise the turkey in the oven for 1 hour. Uncover and braise for 15 to 20 minutes longer, until an instant-read thermometer inserted in the thickest part of the thigh registers 160°. Allow to cool for 30 minutes, then using s fork pull the turkey meat from the bone and transfer to a plate.

Using a spoon gentle drag the back of it across the top of the liquid to remove some of the fat. Boil the liquid over moderately high heat for about 5 minutes, until reduced to about 4 cups. Season the cider jus with salt and pepper, if necessary and add the turkey pieces back in.

Serve over mashed cauliflower or roasted butternut squash with sprinkle of parsley and squeeze of lemon.
I am a nutritionist, chef, mom to two little ones, and a lover of food!
I hope you enjoy my recipes and food blog. Feel free to reach out if you have any questions.