Cherry Berry Chia Pudding
Pudding for breakfast?  Yipee!  Nutrient-packed and fibre loaded chia seeds contain more Omega-3 fats than wild salmon per ounce!  This means super brain powder and a full stomach to start your day.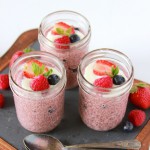 Cherry Berry Chia Pudding
I am a nutritionist, chef, mom to two little ones, and a lover of food!
I hope you enjoy my recipes and food blog. Feel free to reach out if you have any questions.