Pecan Crusted Baked Salmon
Salmon is an Omega-3 powerhouse!  Try and eat fatty fish, like salmon, at least 1-2 times per week.  Cooking fish is easy using the Canadian Method (yep, it's a real thing!):  Broil or bake at high heat for 10 minutes per inch of thickness.  Foolproof!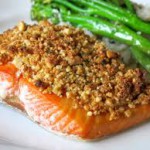 Pecan Crusted Baked Salmon
I am a nutritionist, chef, mom to two little ones, and a lover of food!
I hope you enjoy my recipes and food blog. Feel free to reach out if you have any questions.