No Bake Granola any-way-you-like-it Bars
Interpret these high energy bars to whatever tickles your fancy!  Choose your favorite cereal, dried fruit, nuts and create your own granola bar masterpiece.  These bars work best when individually wrapped and frozen until ready to eat.  A quick snack to grab on the go!  Don't forget that pinch of sea salt….trust me 🙂
There are oh so many variations to try!
Substitute:
-cereal with a Gluten-free flake cereal, such as Nature's Path Millet Flakes,  Mesa Sunrise or Corn Flakes
-with any combination of dried chewy fruits (i.e. figs, dates, raisins, apricots)
-sunflower seeds for pepitas
-flax or hemp seeds for either sesame or chia
-any chopped nut for almonds, i.e. walnut, pecan, cashew, pistachio
-any natural nut butter for almond butter (i.e. cashew butter, peanut butter or even sunflower butter)
-even dairy-free vegan chocolate chips or carob chips work 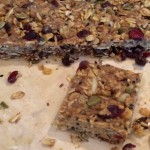 No Bake Granola any-way-you-like-it Bars
I am a nutritionist, chef, mom to two little ones, and a lover of food!
I hope you enjoy my recipes and food blog. Feel free to reach out if you have any questions.