Cosmic Power Breakfast Cookies
Eating cookies for breakfast isn't exactly a high-energizing way to start your day…even though you'd like to think so, because sugar gives us energy…right?  Yes and no.  The key to a morning morsal that will pair with a yummy cup coffee, or just a quick breaky as you battle commuter traffic, is the right combination of low-glycemic sugar, plus some protein and a boost of fibre.  Can it be done with a cookie? oh heck yes!
These Cosmic Power Breakfast Cookies can be eaten any time of day, but I especially love them at breakfast because they satisfy a sweet tooth and provide granola-like punches of nutrients with out the guilt of too much sugar.  These delicious cookies, which I adapted from a recipe shared with me by Shelley McCaughtry, whom I work closely with at the Toronto Food Share conducting monthly cooking classes for women going through or having survived breast cancer.  We both firmly believe that these cookies provide cosmic powers in the most essential way for everyone to power through a day, no matter what that may look like.  All fruit sweetened with a kiss of dark chocolate and molasses, these cookies are also perfectly excellent to feed kids….especially a toddler who is never usually satisfied with anything you put in front of them.  Cookies for breakfast!! See ya later Cheerios and milk.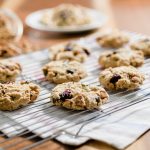 Cosmic Power Cookies
Ingredients
2 1/4

cups

quick cooking oats

1 1/2

cups

spelt flour

1

cup

sunflower seeds

3/4

cup

pumpkin seeds

1/2

cup

unsweetened shredded coconut

2

Tbsp

ground flax seed

1

tbsp

ground cinnamon

2 1/4

tsp

salt

1 3/4

cups

dark chocolate chips

1 1/4

cups

dried cranberries

cherries, raisins or other chopped dried fruit

3

very ripe bananas

mashed

1/4

cup

molasses

1/2

cup

melted coconut oil

1/2

cup

Almond milk
Instructions
Preheat oven to 350˚F. Line baking trays with parchment paper.

Combine dry ingredients (first 10) in one bowl. In another bowl, whisk wet ingredients together and add to dry, mixing until just combined. Do not over mix.

Drop dough, by double tablespoon measures, or a 2-inch scoop, onto a parchment paper lined baking sheet. Gently flatten cookies with the back of a fork to about 1/2 inch thickness.

Bake for 22 minutes or until lightly browned.
I am a nutritionist, chef, mom to two little ones, and a lover of food!
I hope you enjoy my recipes and food blog. Feel free to reach out if you have any questions.